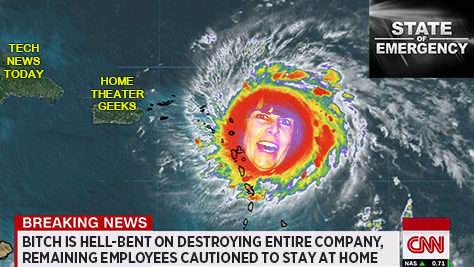 In a move that would make Hurricane Maria envious, TWiT's much-maligned CEO Lisa Laporte continues her reign of destruction on what remains of the failing TWiT Network.
In the latest Inside TWiT blog post, Lisa Laporte outlined the upcoming fall changes (i.e. cancellations) that were necessary to "bring more context and perspective" to the TWiT network.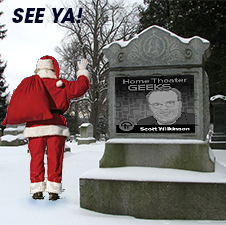 The informative yet sponsor-challenged Home Theater Geeks has finally been 86'd from the menu, but thankfully Scott Wilkinson will continue to grace us on The Tech Guy radio show, while also remaining Leo Laporte's personal audio/video calibrator for the rest of his natural life. The LG TV tagline "Life's Good" is extremely appropriate here, unless you're totally trapped right now like Scott Wilkinson.
Secondly, the hilariously insightful daily tech news show Tech News Today is being downsized to a weekly show, leaving its final viewers concerned how they are going to last 6 days without their daily dose of tech news.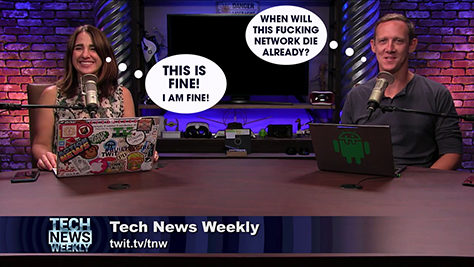 But as a goodwill gesture, those who subscribed to Tech News Today will automatically be subscribed to its weekly replacement (yay?) We haven't seen this level of generosity since U2 gifted their fucking terrible album to all iTunes users and that didn't end well.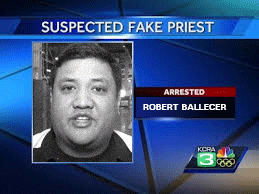 Last, but not least, the highly unpredictable Know How has been exorsized of half its shows. The twice-a-week show — which Father Robert Ballecer simply uses as a pulpit for self-praise and native ads — will now be seen only once per week. We reached out to Fr. Robert for comment and his exact words were "I TOTALLY understand that it's painful… but this is healthy". [ #twitlive chat – Oct. 1/17 17:52 PDT ] We firmly believe this isn't the first time he's used that line on somebody.
In summary, Abraham Lincoln might have freed the slaves, but Lisa Laporte did one better by liberating Mondays from the TWiT schedule. While canceling shows does marginally impact the bottom line, we don't think this is enough to stay profitable, which is why we suspect another round of firings is just around the corner. Please tell us who you think will be fired next, and why. If you're a TWiT employee now's your chance to throw your co-worker under the bus.

Editor's Note: Thank you to the anonymous chatter in our chat room for providing the content for this story. If you have breaking news please feel free to submit a tip, or if you're tired of rotting away in your Mom's basement please send us your resume.