Warning
: Division by zero in
/web/wordpress/wp-content/plugins/gfycat-embed/gfycat-embed.php
on line
135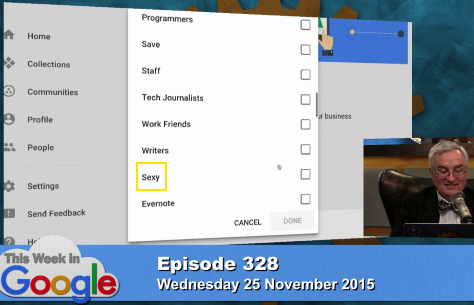 Leo Laporte's misogynistic ways are well known to regular viewers — especially live viewers — as well as Total Drama staff. Therefore, this post comes as no surprise, but we felt that we should pass along the tip that we received: Leo Laporte maintains a circle named "Sexy" on Google+, the long-abandoned and failed social network for socially inept males on the autism spectrum.
We can only assume Leo has such beauties in his circle such as:
He definitely does not have the following people in the Sexy circle:
Racist Megan Morrone
Debi Delchini aka Fat Lisa aka Lisa's Fat Sister
Thanks to an anonymous tipster for the episode and timecode for this article. You can submit a tip by using our feedback link. You can join us in our chat room at any time.