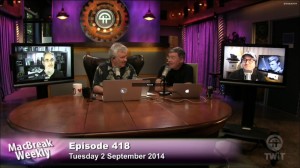 Jesus Christ, could you straighten the shot out, the table is completely crooked. Nothing is centered and everything looks ridiculous. It appears as if no one even moved the screens to even them out, one is behind the table and the other is floating outside the table. I get it, it's about the content but could you please put in minimal effort?  My mom would yell at me in high school if I left my room like that.
It's not like the staff was rushed:
For a list of other optical illusions, click here
And why do you need two coffee cups?