We have recently reported that Leo Laporte and TWiT CEO Lisa Kentzell in a fit of rage have ordered immediate removal of all content made by Tom Merritt, Brian Brushwood and Justin Robert Young from the internet. During yesterday's The Tech Guy show Leo showed his GMail account. The main story from that screenshot was apparent planning of firing Shannon Morse, but there was also another conversation visible. There Patrick Delahanty reports back to Lisa Kentzell saying "Hi Lisa, Knowing that you wanted the files inaccessible ASAP, I renamed the directories because…" She responds with "Thanks Patrick, I figured this out after talking to Bear. With all the chaos going on I wanted to be…"
Today, there we have two new developments. First, Leo showed us his GMail again: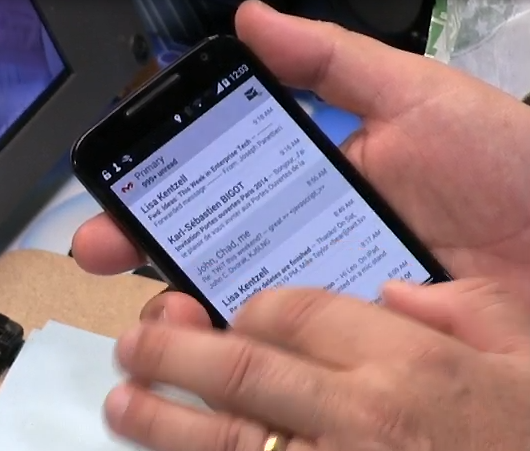 Here we can see another email from Lisa Kentzell reporting that "cachefly deletes are now complete." This was so urgent, they made people work over the weekend to remove all traces of the hosts they have banned from the network.
The other development is that the dissent seems to be harder to contain, even in heavily controlled #twitlive chatroom. After several question about the removal of NSFW from the twit.tv website, Leo Laporte went there to try to explain
12:10 <~Leo> yeah cache fly has complained about the amount of storage we're using
12:10 <~Leo> we''Leo Laporte be deleting other old show
I guess ll got autoreplaced with Leo Laporte in the second line there so it likely should have read: "we'll be deleting other old show."
It's probably the embarrassment of having acted so petty, that is forcing Mr Laporte to be caught in another lie. Surely, the removal of NSFW, Frame Rate, Tech History Today and others from YouTube wasn't caused by Google emailing their concerns about disk space. And lets not forget that Cachefly, long time TWiT sponsor, would not be to happy with Leo claiming their product can't handle large quantity of data. Caching huge amount of data is their core business.
The lesson that a content creator associated with TWiT should learn here is: backup your content now! Your work might be deleted at any moment. Even if you are on best terms with TWiT they might delete your show, just to justify their vindictive purge as "removing old shows" due to "disk space shortage".