As it has become his custom, Leo Laporte went to his chatroom to to vent. Early this morning he posted this:
05:18 <~Leo> shoow and JuRY spent an hour on Night Attack last week (while we were on vacation note) slamming me and Lisa
05:18 <~Leo> *shwood
05:19 <~Leo> It was particularly hurtful because we have bent over backwards to accomodate them, and I've never said a word against either

He's referring to episode 31 of the Night Attack show. It is clear that he has not listened to the episode in question and that he probably got trolled by one of his minions, telling him how they were being "attacked" and "slammed". Mr, Laporte then goes on to demand an apology:
05:21 <~Leo> and it was particularly hurtful to Lisa - they called her Yoko and other stuff
05:21 <~Leo> shwood seems to be getting a lot of mileage out of it and although we've written to him neither he nor JuRY has apologized.
The investigative team here at Total Drama managed to obtain what exactly it was that Mr. Laporte was writing. Here is his message to Brian Brushwood:

To Justin Robert Young he had similarly kind words: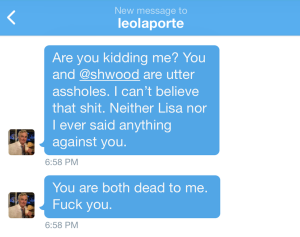 You see how in the chatroom he pretends he was civilized and demanded an apology, while in fact he was spewing insults left and right without even knowing what he was talking about. But that has unfortunately become Mr. Laporte's modus operandi.
But this is not where the insults stopped. No, Laporte went on to Twitter to tell his half a million followers that Brian Brushwood was "a drunk" and an "asshole" and that he was attacking him and his family. Those "attacks" never happened.
And another public attack on Brian Brushwood:
@shwood @IdeaJason I've been nothing but kind and positive to Brian but what would you do if a drunk attacked you and your family?

— Leo Laporte (@leolaporte) October 8, 2014
This just adds to mounting pile of evidence that Leo Laporte is one of the worst kinds of cyber bullies, using his great number of followers to spread lies and baseless accusations without bothering to check any of his facts. And if you point out this, you are being called a "troll" and he will send his army of minions against you.
For the internet to thrive, we need to find a way to stop bullies like Laporte from contaminating the public discourse.