Following our disclosure of his stream of rage triggered profanities, it would appear that Leo Laporte has ordered a full scale history rewrite. Shows featuring Tom Merritt, Brian Brushwood and Justin Robert Young are being deleted from every location on the internet under control of TWiT.
This morning, visitors to twit.tv/nsfw page were greeted with a big "access denied" warning, and every attempt to look at the archive of the show on that site failed.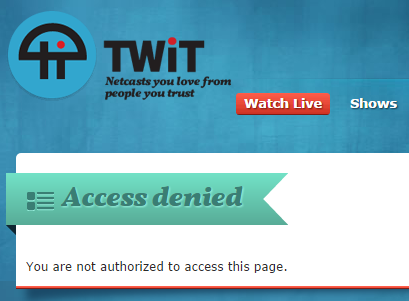 Further investigation showed that the NSFW show was not the only victim of this purge. Frame Rate, Current Geek Weekly, Tech History are also gone from the twit.tv web site. The attempt to erase these people from the internet did not stop there. TWiT staffers were ordered to delete all Youtube uploads of this content as well.
Efforts are under way to restore archives of these shows. Mr. Laporte is probably regretting his decision to release TWiT network content under a Creative Commons license as that makes it impossible for him to take a legal action and prevent the restoration of the show's archives.