Friendship between Leo Laporte and John C. Dvorak ended more than a year ago. Thanks to Leo's persistence to continue insulting John over and over and over and over again. Well, He did it again!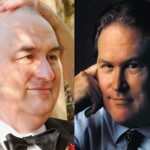 Leo just can't help himself, if he does not slander John C. Dvorak on monthly basis. This time he stooped to new lows that we never seen before.
After another boring episode of self-loathing and pretending he knows coding on mega hit show that no one heard before aka Striangulation, show guest asked, if they still invite John C. Dvorak over to co-host TWiT.
Instead of being decent human being saying no and leaving it there, fat fuck decided to double down on his insults by insulting John and his co-host Adam Curry from award winning podcast No Agenda Show(now 2x weekly, Thursdays & Sundays).
To make matters worse, Leo made up some bullshit story that John C. Dvorak threatened his family and called Lisa that he will release some mysterious info about Leo. He never said to what end or why would John ever do something like that, if he has nothing to gain.
All of this reeks of desperation and crying for attention by narcissistic spoiled perv. John C. Dvorak has more integrity in his pinky then Fat Fuck ever had. Leo is not cast of Keeping Up with Soup, he is irrelevant in tech world, forgotten by podcasting world and all he has is his tiny shoe box studio.
We're happy that during all of this John C. Dvorak remained better man and stayed out of this by not acknowledging Soup, TWiT or that evil cunt and would like to hope he will continue to do so. Also, we would like to congratulate Adam Curry on his achievement of propagating the formula by being guest on Alex Jones InfoWars show, go watch it and give it a like.
PS: We're not dead and still around 😉