William Shakespeare said it best when he quipped "Who knows himself a braggart, let him fear this, for it will come to pass that every braggart shall be found an ass."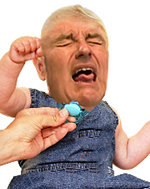 We don't believe Leo Laporte ever got the memo because his fat mouth spews more braggadocios garbage than any reasonable person can handle.
If you've watched any Leo Laporte show in 2017 chances are you've heard him bragging endlessly about some stupid cell phone, computer or vacation he took or is about to take.
All we know for sure is that Leo Laporte uses these vacations and materialistic possessions to define his success. Maintaining the illusion of success is paramount even if that means firing employees to free up money.
But clearly TWiT isn't a success in any sense of the word. It's been a complete personal failure, financial failure, cultural tolerance failure, and the company doesn't have the ability to hire and retain talent ( . )( . )
You don't have to look far and wide to uncover the undeniable proof that Leo Laporte and TWiT have become a complete laughing stock and they are living on borrowed time. We look forward to watching this oversized asshole completely disappear like an loose turd circling the toilet bowl. Bon Voyage asshole.