I said I
may return
for remarkable stories. I consider this to be remarkable. Thanks to the anonymous reader who sent in
the tip
.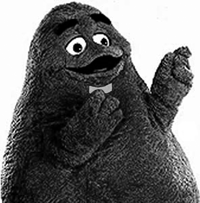 This is the Total Drama series Man of God, in which we chronicle the exploits of one Father Robert Ballecer, aka Grimace in a Priest Costume, aka The Digital Jesuit, aka <PadreSJ>, aka FMCP. Please use our dvr and send in tips with examples of his very Christlike behavior.
Update:
TWiT was so proud of FMCP's admissions that they
left them in
the posted episode.
In the video above, you will witness Father Robert Ballecer seemingly admit to fraud, trespass, and violations of the Computer Fraud and Abuse Act.
This is not the first time he's used the TWiT dot TV platform to announce possibly felonious activities.
I am not back "full time". I will be here when needed. I also still have unreleased videos in "the vault".