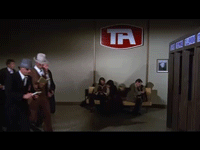 We are receiving reports from the United States District Court that TWiT was unsuccessful at extorting millions of dollars from Twitter in the trademark infringement case of the century — previously covered (1) here, (2) here and (3) here.
We could not reach Leo Laporte (or Hilton Goring) for comment, but we were able to secure the following video from a random German media outlet (above).

Actual Courtroom Audio
Audio of Judge lambasting and laughing at TWiT's lawyer
UPDATE: TotalDrama has received the official ruling below:
TWiT, LLC vs. Twitter Inc. – Case Dismissal
If you have any ideas for an article (like who Leo is frivilously suing next) we encourage you to visit our chatroom, leave an anonymous comment below or submit a tip.  A big thank you to our intrepid court reporter who was forced to listen to endless hours of TWiT pleading its case in court without being able to openly laugh his ass off.