Editors Note: This was sent to us by chatter Vincent Ferrari (<vincenzof>) and is unedited by us. Echoes of the threats of a chat and live stream shutdown are obvious.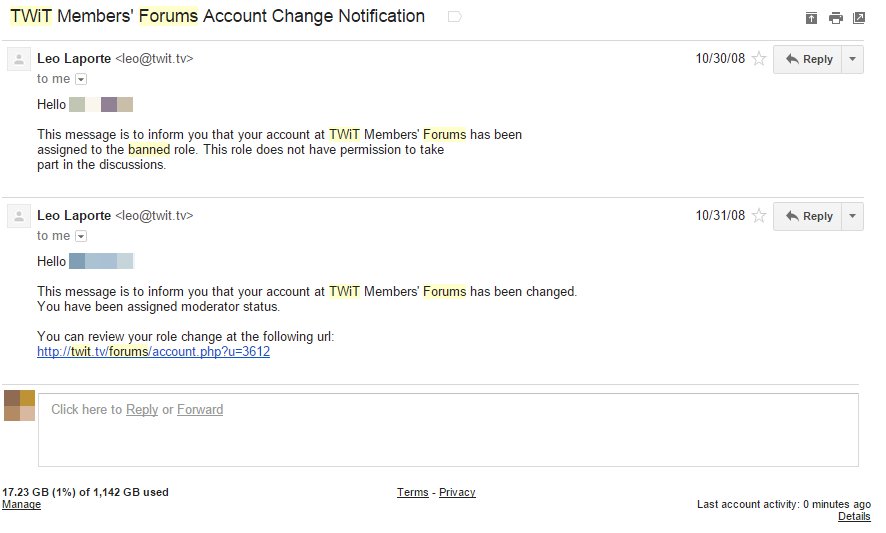 It was October(ish) of 2008 and the TWiT forums were the place where viewers could discuss the shows, of course, but mostly we just hung out there and chatted with each other. It was a strange little family of people with diverse interests and the discussions didn't always center around TWiT. In fact, for the most part, they went all over the place and we liked it that way.
Originally, the forums were for paid subs only. Back in the old days, you could chip in $2 a month and for that sum you gained access to the forums. Eventually, they went full free, and I don't remember where they were in October 2008. We were having a discussion about a statement Leo made on the forums about "working for free." Many of us long-time listeners scoffed at the notion that anything he did for TWiT was "for free," and noted based on many things, that he was not only not "working for free" but he was being paid quite well. Our objection wasn't that he was making money, but that he continued to perpetuate this crazy idea that he wasn't being paid for what he did.
The conversation got heated, and divisive with many people throwing names back and forth at each other, and it ended up with a bunch of people throwing up their hands in disgust and leaving the forums altogether. Some stayed, though, and this one thread just kept going on and on. The discussion eventually came down to people arguing that those of us who "don't like it should just leave" and the ones who were balking at it saying "but we pay for it and this is the place to talk about it." It got uglier and uglier, and Leo himself stepped in at one point, saying that he had had "enough shit" from the forum, and he isn't working so hard so that people could make him miserable. He said he would no longer be looking at the forums, and then upgraded the people who disagreed with him the most and had been there the longest to moderator status.
Things settled down for a bit and me, along with a few of the old "regulars" moderated the forums until another tantrum over content, in which Laporte decided that he had enough of us discussing things and that the forums were a "cesspool" (sound familiar? *cough* Twitter *cough*) and needed to go. He then proceeded to ban everyone he made a mod entirely, and later would close the forums down. They would re-appear on another server for awhile, but eventually disappear. The most active and enthusiastic community behind TWiT was not only killed, but it was eviscerated and people were shamed for not just drinking down the Kool-Aid. Incidentally, I still have the emails that say I was upgraded, then banned, lest you think I'm playing games.
Why am I telling you this? Because it shows a pattern. To an extent, Leo is right. It's his ship and he can run it how he wants. But, when he does that, it really cuts through the happy horsecrap of "we're all about input" and "we love feedback." None of the shows have feedback on them any longer (aside from Tech Guy which is heavily moderated), the forums are gone, and any medium on which Twit can catch criticism is frowned upon, dismissed, or utterly demolished (consider how hard Leo is on Facebook and Reddit). He exhibits a total lack of class when anyone dares question him or his decisions, and seeing him lash out at critics over the years has made me less and less inclined to support him and TWiT in any way. I do enjoy the shows. I get a lot out of them, but it seems like, at this point, they're just coasting and "riding it out." I should've been way more excited about the Screen Savers reboot than I am, but I just see it as an attempt to recapture what was lost a long time ago, but we'll hear over and over again how this is a sign that he listens to the fans and does what they've been asking for.
Only time will tell but the more I read here and on another site about the machinations that go on behind the scenes, the more I think this ship has not only sailed, but hit an iceberg and is on its way down as the violinists play and a woman floats on a door.