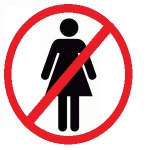 I am willing to accept that in five years there has never been a black woman on TWiT. Never, not once. (excluding ring central ad) I am willing to accept that although ten percent of the US population is black, less than 1% of TWiT faces are black and zero employees. But women? More than half the worlds population was born with female genitalia. You have to make an effort to shun half the population.
The following listing is of the most recent This Week in Tech episodes, all of which did not have one person born with (XX) chromosomes:
Nov 23: 1 host and 3 guests
Nov 16: 1 host and 4 guests (special segment included)
Nov 09: 1 host and 3 guests
Nov 02: 1 host and 2 guests
Oct 26: 1 host and 3 guests
Making your girlfriend CEO does not make you less prejudiced, it shows what traits in women you value and what a woman has to do to get respect there. If you combine this with his outlandish statements to the lovely and talented Sarah Lane it makes me wonder.
For those of you who like math, the chances of getting head 15 times in a row on a two sided coin is .00341796875.  So if 50% of tech journalists are women and they were selected randomly the odds of getting (see listing above) 15 guests in a row as men are likewise .00341796875. And tech journalism is filled to the brim with female journalists.