Problems are ramping up for everyone's favorite tech network. We recently covered the story of three more TWiT shows being cancelled, and now it appears that TWiT has lost nearly 40% of its sponsors going into 2019.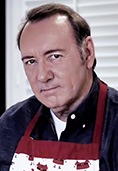 A comparison of the Google cache from December 2018 to the current list for January 2019 shows that even more sponsors have decided to bail on the "netcast network". We have been tracking sponsor exits for some time using the informative website boycott-twit.com, but this month the net losses are extremely troubling. Even Kevin Spacey (Leo Laporte's good friend) was overheard saying (in Frank's voice) "I thought I was fucked, but TWiT is royally fucked!". Spacey then lifted a chalice and symbolically toasted Leo Laporte.

We at TotalDrama had high hopes that Hank Laporte's nepotistic placement into the sales team would put TWiT on a better path, but not even the profound philosopher himself is going to be enough to save TWiT. The best he can do to secure his financial future is to begin taking hardware home at night and hope nobody notices.
So for now the 24/7 tech network pipe dream will continue. The past failures of ZDTV, TechTV and G4 will not deter Leo and Lisa Laporte. They are positive they can succeed where three other corporations have failed… three corporations that had access to unlimited capital at the time. We at TotalDrama don't take pleasure in TWiT's imminent demise. Most news agencies that only cover one company would have packed up half their shit by now, but we remain committed to seeing this out until the last employee is fired and the locks on the front door are changed.
Special thanks to the anonymous tipster who provided the photo of Leo Laporte riding his overpriced and obsolete Segway PT. If you see anything newsworthy please (1) visit our chat room, or (2) leave an anonymous comment below, or (3) submit a tip by clicking on "Feedback & Tips" to the right. Thank you for continuing to support independent journalism.