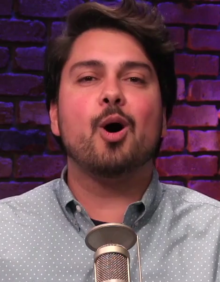 It should come as no surprise that Nathan Olivarez-Giles — TWiT's newest hire — cursed out the live stream on one of his first shows, as you can see in the video above.
The guy with the man-bun to his right could only laugh in disbelief at what was happening.
Have CEO Lisa Laporte and Leo Laporte officially dropped the family-friendly designation for the TWiT network?
Leo Laporte killed the family-friendly reputation years ago when Leo cursed out a room full of children live during the New Year's Eve celebration in 2015.
Later in that banner year, Leo Laporte displayed his penis for all to see. The next year, he showed us Lisa's vagina.
This year, 2017, Leo has already shared his teen porn with us. Lots more disgusting non-family friendly things have happened, but those are the highlights.
Thanks to an anon from #drama for the video.