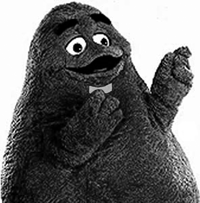 Today we introduce our new series, Man of God, in which we chronicle the exploits of one Father Robert Ballecer, aka Grimace in a Priest Costume, aka The Digital Jesuit, aka <PadreSJ>, aka FFF, aka <MetalHealthSJ>. Please use our dvr and send in tips with examples of his very Christlike behavior.
In this week's Man of God, we watch the obese, gluttonous (deadly sin) medical waste sack in a priest costume sing a song demeaning those with non-cisgendered gender identities and then introduce one such person. Myriam deserves better than being called a "he" multiple times by both #Soup and #FFF.
When Padre isn't busy telling people to "Suck it.", he spends his time wasting money on drones, pretending to interview people while grinning/nodding at the camera, and doxxing critics on Twitter (who he gets banned from the chatroom).
Enjoy
Padre's Response
We take a few issues with his response.
We very rarely enter their chat room. They attribute everyone who hates TWiT to Total Drama. We have our own one-way bridge to see what they say. We don't need to be there ourselves. We certainly don't go there to insult transgendered people. That's Padre's job.
Amateurish editing?? OK. We'll give him that one.
The indignation is real and there is more to come in the Man of God series.
We agree with him about "watch for yourself". Our DVR contains up to two weeks of live TWiT video. We encourage you to skip back to 34:00 on the "14:00 Friday May 8, 2015" video and watch the entire pre-show for yourself, in which Leo and Padre dox one of Total Drama's members.

He'd rather you download the edited copy with all the pre-show insensitivities edited out, but you can see for yourself, only here at Total Drama.