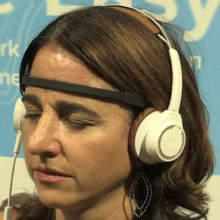 TWiT has exactly two hosts on staff now: Megan and Jason. After the abortion of a presentation that Tonya delivered — where is she? — only Megan and Jason are available.
With the extremely obese fake priest trotting around Rome, Megan was sent to cover Pepcom. No, we don't know what that is either. Perhaps an ulcer medicine.
During her idiotic "coverage" — most of which went unused in the actual "Live Special" — Megan took time out to admit that she actually is a monkey, despite her prior denials. She additionally confided in the live audience, telling them she feels dumb, but that wasn't really a secret. Perhaps she's not a 100% Dunning-Kruger case after all?
Enjoy the sweet sounds of Enya while watching Megan Morrone meditate.