Leo Laporte interviewed Virginia Heffernan on Triangulation last week about her new book that he hasn't read. He made the usual excuses about how he didn't get the book, and then it was revealed again that he did have the book and he just didn't read it. No surprises.
Virginia was warned this was exactly how it would go down, and she in turn warned Leo not to exhibit any of his normal misogynistic tendencies against her, so the interview went better than most Triangulation interviews. This week, Leo interviewed a white man, so no racism or sexual harassment was present.
What was a surprise is that Karsten Bondy — unlike EffenDumb — doesn't warn guests that they're live. Virginia — unaware she was being recorded and unaware she was being live-streamed — had a candid conversation with Leo.
Leo and Karsten later conspired to use their entire pre-show conversation as a second show. Leo said he wants to get "everything but the squeal" from his guests. In other words, he will milk them for all their free labor is worth. Virginia is now helping Leo to sell ads for 2 shows while receiving no compensation, other than mentioning her book which none of his audience of twits will buy.
What came next was really surprising. Leo discussed with Megan, after the show — but before he made a handjob joke about Megan's 13 year old daughter — Megan's ability to get a guest when Leo was gone.
This is an actual transcript from the video above.
Leo: You know, get Terry Gross or somebody, ya know. Some, some chick.

Megan: Maybe a woman over 40.

Leo: Virginia was 46, so don't knock at that.

Megan: Maybe a woman who looks over 40.

Leo: I know... Well, you should see. Because she has the publicity photos are clearly a few years... a few years ago *knowing laugh*. She looks... a little younger! *asshole laugh* No. You know what? She was greaaaat. I really liked her. We're gonna try to get her on TWiT or TWiG or something. She's probably way too smart to do that, but maybe we can trick her.
You decide.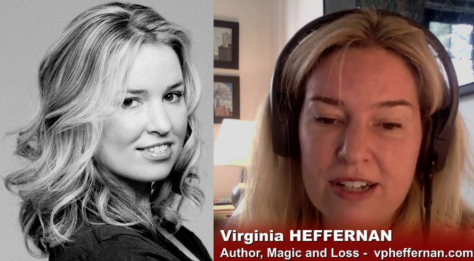 In any case, it's not nearly as egregious as Tonya Hall's lie of a Twitter profile picture. (Archive link for when she changes it.)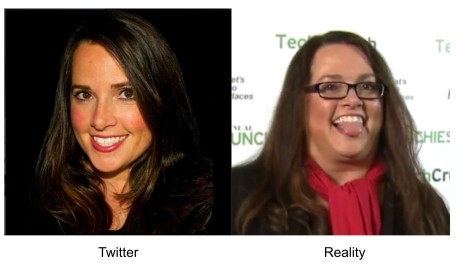 Megan Morrone — the possibly racist, definitely not a monkey co-host of iOS Today — looks suspiciously like Mr. Potato Head at the exact moment Leo suggested her 13 year old daughter could learn how to give a satisfying handjob to a young man by learning to milk a cow.