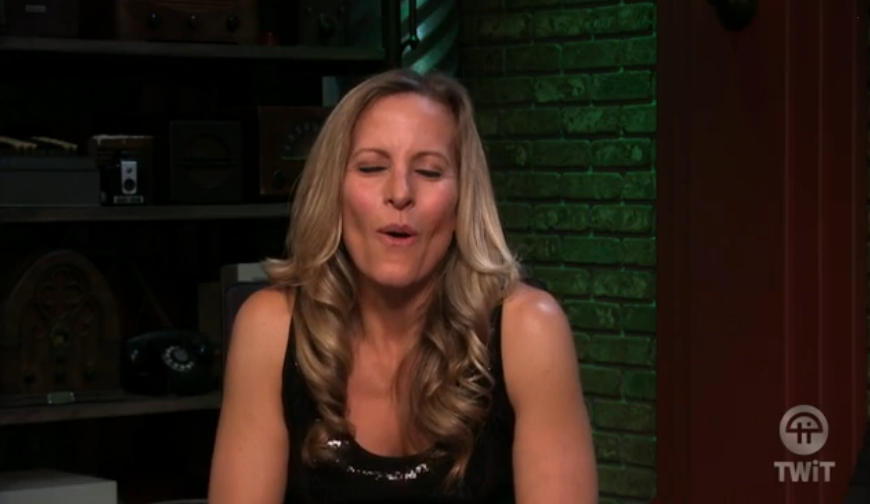 Professional lady journalist Becky Worley—and inexplicable supposed friend of Leo Laporte—nearly squirt herself right out of the million-dollar studio recently during "Good Morning America's" dopey 40for40 stunt (who even knows that that means) during the late-night broadcast. Luckily enough she was able to recover in time to complete the hour-long show.
Highlights from the non-event include:
Leo having to admit that Petaluma is in the middle of nowhere.
Becky referring to Leo's netcasting empire as a "podcast."
A creepy musician playing with himself.
No in-studio appearance by Padre the fatass fake clown priest. (Possibly the year's greatest highlight besides DickPicGate.)
Becky reminding Leo that he used to be on network television shilling stupid gadgets on "Live with Regis and Kelly" made for a wonderfully sad moment.
Seeing OMGChad's weird goatee; he was obviously trying to hide his unexpected weight gain that resulted in the sudden growth of his very own double chin. See for yourself.
Watching Becky produce a show so effortlessly while Leo stood by with his hands in his pockets was immensely satisfying to longtime hate-watchers. It's almost as if having a pleasing onscreen presence, being prepared and being well-spoken (in a non-sexist way) might just be something Leo should emulate.
In an odd twist, there was zero discussion of Megan Morrone's recent foray into racism. The editorial board at Total Drama was hoping for a wide-ranging talk about Megan Morrone being a racist. Well there's always next week. Megan is bound to say something racist.