This is a first since the inception of this website. I kid you not. Check the annals (two n's) of our site and you will find nothing of its kind. This movie recommendation is not without purpose, it is not only here to entertain you.
The movie I speak of 'Quiz Show'  is available now to rent and stream.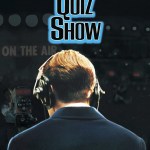 This film started slow but sped up in the second act and the third act was riveting. The concepts examined in this movie are great. The descent into corruption for money. The lust for fame. The trading in of values. Advertising in TV. The death of morality in TV. Bastardizing intelligence. Selling out. Lying to the public.
It also has a lot of stuff for people who like literature and Shakespeare, so no one from TWiT will watch it. It is honestly in my top 15 all-time-movies.  Rob Redford directed and he is a great, great friend.