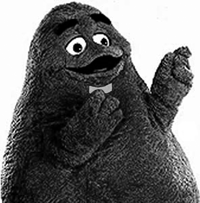 None of us like the fake priest "Father" Robert Ballecer. Whether you hate him for his fat neck-jiggling head motions he does on camera, the 1920's affected radio announcer voice he uses, the pathological lies he tells, or the way his lips always look puckered due to the adipose tissue pressing outward on all parts of his enormous head, one can't help but be disgusted.
However, you can't discount his contributions to the "TWiT TV Network" in terms of minutes on-air. Sure, the content is terrible, but so is the content produced by Leo Laporte.
In the clip above, Leo Laporte is envious of the contributions made by PadreSJ and can't stand that FMCP is represented more in the past week's clips more than King Soup.
Green isn't a good color on Leo.