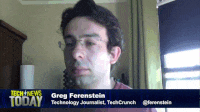 Not content to simply stutter and gulp through prepared readings from a teleprompter, Elgum and #Cokerage decided it was fine to make fun of a former guest on-air with impunity. He could not even remember Greg's name. Total Drama remembers.
Why, you may ask, is Greg the subject of an infantile dolt's ire? Because he had the audacity to use a standing desk with a treadmill to stay healthy while working from home. We admire Greg Ferenstein for his courage in dealing with Gum, and we are sorry he is now the subject of the imbecile's idiotic smirks, chuckles, table drumming, and freestyle humming.
Update: Response from Gum
Enough of that.