Just a quick tip for those #TotalDrama fans who may be pre-ordering the biggest-size iPhone 6 Plus tonight (Midnight PST or 3 a.m. EST):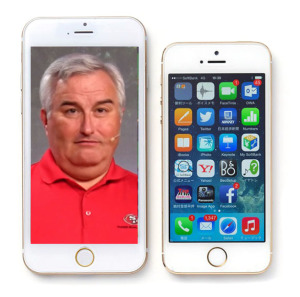 The bigger screen will show Leo's fat face so insanely huge, that you may suffer seizures, migraines, heart palpitations and runny stool. A safer approach would be to just pre-order the 4.7-inch "normal" iPhone 6. That way you can still have the latest Apple technology, but not risk seeing any of the TWiT content or blubbery hosts at too large a size.
Just imagine how gigantic Father Padre the Blobby Priest's chubby cheeks would look if viewed from the larger screen. Unless you're willing to shell out extra dough for the special Jony Ive Apple Leather Puke Bucket as an additional accessory, it's best to stick with the more diminutive iPhone.
Good luck, and happy pre-ordering!