It's time for our monthly edition of "Leo Talks About John C. Dvorak". Be sure to read the past hits.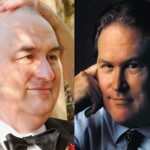 This time, the fat piece of lard called John C. Dvorak a thief, with help from his pet monkey dog — John "JammerB" Slanina — who couldn't stop himself from yapping in background to please his master.
Being at the height of his delusions, Leo thinks it was charming that he allowed JCD to take things from him. Let us break it down for you Soup: allowing people to take something from you is not stealing; it's called giving a gift.
The most jarring part is Leo's obvious lie — the fake backhanded compliment he gave to John. You can see disgust in his eyes as he says it.
It's clear that the success of the award winning podcast No Agenda Show — now 2x weekly, Thursdays & Sundays — continues to bother him, as TWiT descends into obscurity.
Just move on, Leo!