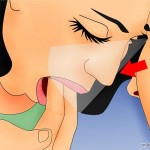 People are idiots, and we read what they write every day. I am now convinced that any semblance of sanity or reason in this world is kaput. We poke fun at Jarvis and Laporte for their, what I would not even call inconsistencies, it would be more accurate to call them blatant hypocrisies and contradictions.
(i.e.) These people are outspoken against untrustworthy governments accumulating voluminous amounts of information on individuals but are fully trusting of massive corporations in Cupertino or Mountain View giving themselves permission to look at your emails and private photos in the very same caches of information they are blindly trusted to be guardians of. They are against looking at stolen/hacked photos of Olivia Munn (nice nurse uniform) but OK with releasing stolen/hacked Sony information. And don't believe their asshole excuses about the "public good." They were exposing inequality in executive salaries? Bullshit. If one of these reporters actually reported and bothered even once to investigate, they would know that many, many corporations release that information and oftentimes executive salaries are public information. Trust me, the public good of seeing Kate Upton's tatas far outweighs taking a gander at what Amy Pascal makes at Sony. That is reporting? They have no great cause to get behind and no great wrong to right so they make shit up. And half the time they don't even understand what they've written! These people posture to have something to talk about at dinner. But let us get to the greatest sanctimonious horse hooey; trolling.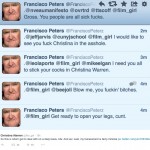 So what now? These phonies and freaks are on a campaign against HelloWorld. Why? Because he says vulgar stuff on Twitter. Mind you, he does this with a new account with zero followers. No one sees it besides the dainty and oh-so-delicate @user. The morons who changed their Twitter profile pictures to Anti-Sopa nonsense are full of shit. They want his IP banned. They want identities verified on Twitter. So if you're struggling with being gay in a country where they will stone you for being yourself and you need to talk—fuck you. If you have a government that throws you in jail for protesting and you want to organize—fuck you. If you have a law practice and love "My Little Pony" in secret—fuck you. Bad words must not be seen by Christina Warren; so any right to privacy should be stricken.
Christina, pull your hat away from over your eyes, move your stupid finger to the corner of your screen and click "block." If doing that four times a day is too much work, then switch back to the iPhone 5S and its smaller screen. I am sorry you have to see those bad words, but take one for the team. If you really can't handle it, then perhaps seeking a line of work that is not public is best.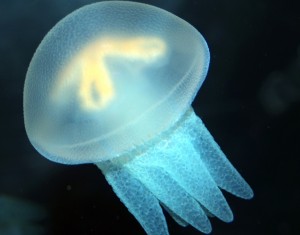 Just to clarify the chain of trolling: There are people like the FCC Chairman, Charlie Rose, elected officials, police, actors and CEOs who are maligned and ridiculed (trolled) by Elgum, Laporte, Snell, @film_girl and countless other reporters. Then, others malign (troll) the maligners on Twitter or blogs. Next up on the chain of trolling are the commenters on Twitter and those blogs who malign tweets and those who write the articles. And so it goes—everyone keeping everyone in check. But the Great Minds take issue with only one of the falling dominoes. Only one breed of criticism is "trolling," the one centered squarely on their dumb-asses.
The analogy between how governments work and how tech journalism works is just too good to pass up. There is basically one or two shitheads who says things and smaller shitheads eat this shit up and regurgitate the said pooh into smellier bite-sized shit.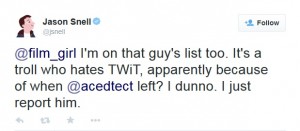 The #soupguzzler is so poisonous he (in private where snakes work best) uses this as an opportunity to allegedly blame Merritt.  Where else would spineless Snell get this preposterous propaganda?
#Soup, if you are smarter than 99% of the population, your job is not to manipulate them. Remember, there is another 1% out there watching you.