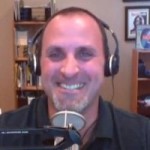 "Tech News Today" co-host and beloved #CokeRage, Joe Panettieri, has been dumped from the network. The AfterNines (whatever that is) founder has been MIA for weeks now.
Please join the editorial board at Total Drama in our concern that a longtime TNT contributor would just be fucking thrown out like a fucking bum with NO word from host Mike Elgan (Marc Elgum). So this is the best that they can do over there? Just use and abuse good and decent people?
Joe has been cleansed from the People pages on the official TWiT website.
DOES ANYBODY HAVE A CLUE TO WHERE HE IS?
Tweet Joe and let him know that you demand answers. Long Live #PrisonPussy (so named for his signature goatee also called a "prison pussy" in street slang for its resemblance to the hairy mouthpussy as used in penitentiaries across the country for oral entertainment between inmates).
No word yet if Joe left because of Megan Morrone's racism.