We have all witnessed bizarre stuff at TWiT. Lately, something unusually bizarre has come to our attention. Laporte has long been known as someone who despises humanity. Every emotion he expresses towards people is disingenuous, but a change is on the horizon.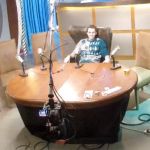 Jeff is only 18 but he is quickly rising in the echelons of TWiT management. Originally, as noted by the lovely & talented Sarah Lane, his main function was #soup fetching. Reluctantly we will admit that this is a task that is not without prestige at TWiT LLC. Later Jeff was advanced to the position of analyst, a title higher than off-site producer currently occupied by Chad Johnson. (analyst is another title with no known function.) Chad Johnson, speaking of the devil,  is  someone young Jeff is charged with monitoring when the ex-producer is in the vicinity of the supply closet, to ensure that no office supplies suddenly vanish. Do you wonder what caused the boy's unusually high comfort level at TWiT while everyone else is in constant fear of being unemployed?
Leo has been known to promote friends and girlfriends to high levels of management. It seems that the young lad is truly friends with Leo. The two have been spotted going to the movies together and now Leo is buying him gifts. (a sweater) Add this oddity to the list of things to keep an eye on at TWiT.
Thanks to Richard Yes for clip
*Reminder* last week to vote for hottest hotties in tech 2014