How sad is it that this isn't the first article we've written about Leo Laporte showing his porno on his iPad?
He did it again. He showed it to Megan on iOS Today, again. We have the footage, thanks to an eagle-eyed viewer who submitted a tip. Thank you!
We reached out to Leo Laporte via email — the one he says he never reads but totally did — for comment on this article before it went to press.
We asked:
Leo, can you identify the Phoenix Marie clip on your iPad? Most of her work seems to be kinky shit like fucking dudes up the ass with a strap-on, and you're not into that, right? Right?
When we checked 2 ½ hours later, Leo had made the YouTube video private and had replaced the videos in the RSS feeds. The newly censored YouTube video is 1:13:39. The old one — yep, you bet we archived it — was 1:13:53.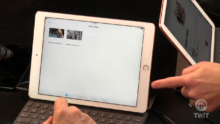 What happened to those missing 14 seconds?
Leo Laporte had to ask an editor, yet again, to edit out some of his porno he showed on-air and then uploaded to the feed.
Our only guess is that he assumes nobody actually watches these shows, since he knew he did it as he actively tried to hide it on-air.
What's truly sad about this situation is that he had them offline in Movies on the iPad. This means he actually downloaded those MP4 files, probably via torrents based on the terrible file names. He then hooked up his iPad to his Mac and dragged and dropped the files onto the iPad using the sync function. All so he could have his porno files offline on the device itself. What is he doing in between shows??
So far, we know Leo likes:
Is TWiT still advertised as family-friendly?
At the time of this writing, we still have not gotten a response from Mr. Laporte — other than his censorship actions. We will update the post if we learn more. It's no wonder he was late for his first show the morning we emailed him.
Yes, I left, but this was worth returning for. Expect me to come back for dick pics, vagina pics, and porno.