Update:
The liar priest, who is supposedly without technology on a vow of silence, is now muting accounts on his
personal YouTube
(
Proof
) within 2 minutes (push notifications). Absolutely incredible.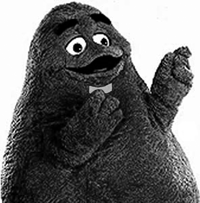 This is the Total Drama series Man of God, in which we chronicle the exploits of one Father Robert Ballecer, aka Grimace in a Priest Costume, aka The Digital Jesuit, aka <PadreSJ>, aka FMCP. Please use our dvr and send in tips with examples of his very Christlike behavior.
Something very strange is happening over on Father Robert Ballecer's Twitter profile. The fat fake priest — aka FMCP aka PadreSJ — is pretending to have written an artificial intelligence bot that is running his Twitter.
He is supposedly away at a no-technology Jesuit retreat. Mercifully, this is the reason he is not appearing on TWiT right now.
I'm about to enter into silence.
I'll be praying for all of you.

Stay safe.

Stay healthy.

Stay positive.

I'll see you in 2 months.#AMDG pic.twitter.com/7Zg14RLPm3

— (((Fr.Ballecer,SJ))) (@padresj) June 17, 2017
We found it odd that he has timely mentions of things that just happened, such as the new Doctor being announced and National Ice Cream Day — a holiday we are certain he celebrates daily.
[Dr. Who] is trending in my feed.

I'm being triggered by [female] [gender] [sexism].

Feed timeline flagged for Padre's review.

— (((Fr.Ballecer,SJ))) (@padresj) July 16, 2017
Padre swore off soda and sweets for the long retreat.

Think I should send this picture to the copier at the retreat house? pic.twitter.com/xY48xwafxF— (((Fr.Ballecer,SJ))) (@padresj) July 16, 2017
We did some digging using the actual Twitter API. All of his Tweets are being posted from TweetDeck. Here's the source attribute from almost all of his "bot" tweets:
"source":"<a href="https://about.twitter.com/products/tweetdeck" rel="nofollow">

TweetDeck

</a>"
He can't control that string, because it's set by Twitter's server side based on the API keys being used. He's 100% using the TweetDeck program to post his tweets.
TweetDeck can't create Twitter polls. No consumer of the Twitter API can, including FMCP's fictional "bot" lie. The fake priest logged onto the Twitter web site to post these polls:
"source":"<a href="http://twitter.com" rel="nofollow">

Twitter Web Client

</a>"
Padre programmed me with the ability to run polls and report the findings back to him.

What should I do?

— (((Fr.Ballecer,SJ))) (@padresj) July 3, 2017
"source":"<a href="http://twitter.com" rel="nofollow">

Twitter Web Client

</a>"
Some questions:
Did FMCP sneak a smartphone into the no-technology religious retreat under one of his many fat folds?
Is Bryan Burnett running FMCP's Twitter and pretending to be a robot, not far from the truth? Edit: This hypothesis is improbable, now that we've seen he is policing his own YouTube/Google account via push notifications.
Does FMCP think anyone believes he knows how to program anything, let alone an artificial intelligence that can respond to current events? We've seen Coding 101.
Don't forget to read the rest of the Man of God series detailing Father Robert Ballecer's misdeeds in real life and on Twitter.